2022 AVOV TVONLINE N4 - 2G/8G Android 4K IPTV Set Top BOX DUAL WIFI - REPLACES N2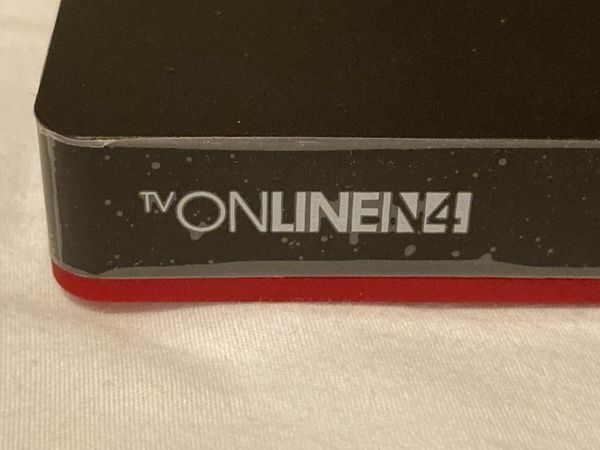 2022 AVOV TVONLINE N4 - 2G/8G Android 4K IPTV Set Top BOX DUAL WIFI - REPLACES N2
2022 VERSION - NEW FIRMWARE
AVOV TECHNOLOGY NEXT GENERATION IPTV BOX!

the AVOV Technology TVONLINE N4 4K
Includes 1 month NOVA II PRIVATE IPTV SERVER or REGULAR STALKER IPTV SERVER (choice of 8 servers)

The AVOV Technology TVONLINE N4 4K - NOW WITH 2022 UPDATED FIRMWARE NEW LOOK - SIDELOAD ANY ANDROID APK APP -
The TVONLINE N4 set top box is AVOV'S NEXT GENERATION premium IPTV/OTT Android set top box.This device comes pre-loaded with AVOV'S CUSTOM NOVA MIDDLEWARE and TVONLINE (can run both exclusive NOVA II IPV servers and regular STALKER IPTV servers!

QUAD CORE 64-BIT ARM CORTEX A53 PROCESSOR
NOW SUPPORTS 4K OUTPUT RESOLUTION
ANDROID 6 OS
NEW LOOK 2022 FIRMWARE
SIDELOAD ANY ANDROID APK

DON'T SETTLE FOR GENERIC CHINESE GARBAGE




NOVA II MIDDLEWARE IPTV SUPPORTS CHANNEL LOGO INTERFACE (OUR PRIVATE SERVER)
OR USE STALKER CLIENT FOR REGULAR IPTV SERVERS
SPECIFICATIONS
Amlogic Quad-Core 1.6GHz Cortex A53 Processor
Quad-Core Mali 450 (Open GL ES2.0/1.1, Open VG1.1, Flash 11.1).
2G 712MHz DDR3 Memory
8GB MLC NAND Flash Internal Storage
Android 6.0
Dual Band Wifi
HDMI 2.0, 4K, 3D movie file format supported
SD/MMC card reader (SD 3.0, MMC V4.41)
USB 2.0 port x 1 provide max 500mA




YOUR CHOICE OF LIVE TV CHANNEL IPTV SERVICE:
NOVA II MIDDLEWARE PRIVATE IPTV SERVER WITH CHANNEL LOGO DISPLAY (INCL VOD)
-OR-
REGULAR STALKER MIDDLEWARE IPTV SERVER (CHOICE OF 7 SERVERS INCL ADULT - PPV - VOD)

ONLY $20.00 CAD / MONTH AFTER YOUR FIRST MONTH
CHANNEL LIST UPDATED MONTHLY-

IPTV TESTED TO WORK ALL OVER NORTH AMERICA


WHAT IS INCLUDED IN YOUR AVOV TVONLINE N4 device -AND- 1 MONTH IPTV PURCHASE?
-AVOV TVONLINE N4 4k device + REMOTE (with batteries) + HDMI CABLE + POWER SUPPLY FOR BOX
-1 MONTH (30 days) IPTV ACCESS -=- YOUR CHOICE BETWEEN NOVA II MIDDLEWARE SERVER ++OR++ CHOICE FROM 7 REGULAR IPTV SERVERS



PLEASE READ THE FINE PRINT!
In order that you get every day of your one month free IPTV access, your box will be shipped with an assigned MAC address that will be added to our server. Please contact us upon receipt of your AVOV box and your IPTV access will be activated within 24 hours of your message - if we send you the box with your IPTV account already active you will basically lose the amount of days your box is in transit from your one month trial account (for example, if you order your box today and I activate your IPTV account today, and it takes 3 days for the box to get to you, you have just lost 3 days from your 30 day trial account - get it? If you would prefer to have the IPTV access active as soon as the box is shipped thats fine but then you will lose the days in transit as I have tried to explain.
IF YOU SELECT OUR NOVA II MIDDLEWARE SERVER OPTION WE WILL SEND YOU AN ACTIVATION CODE THAT WILL NEED TO BE ENTERED INTO THE NOVA CLIENT APP.


TERMS AND CONDITIONS
We accept PAYPAL for all purchases only. Your purchase will be shipped within 1 business day of your order - please note if you order on the weekend that the weekend is not business days. All shipments by Canada Post Expedited Parcel service. Shipping time will depend on how far you are from us (we are in Vaughan Ontario Canada) All boxes include a 1 year manufacturers warranty. We are an Authorized AVOV Technology reseller and have RMA privileges as such. All sales final except in cases where there is a hardware defect with the box only. Defective boxes must be shipped back to us at buyer's expense and once confirmed defective replaced / shipping cost covered. No refund or return on any IPTV service. Due to the nature of IPTV service and internet streaming in general, we cannot guarantee that EVERY stream on EVERY channel will be working 100% of the time (FYI even your cable company can't gurarantee that!). We also install KODI and a complement of addons as a courtesy but again we cannot guarantee that any specific addons will be working 100% of the time. We do not offer any support for KODI installs or addons sorry.